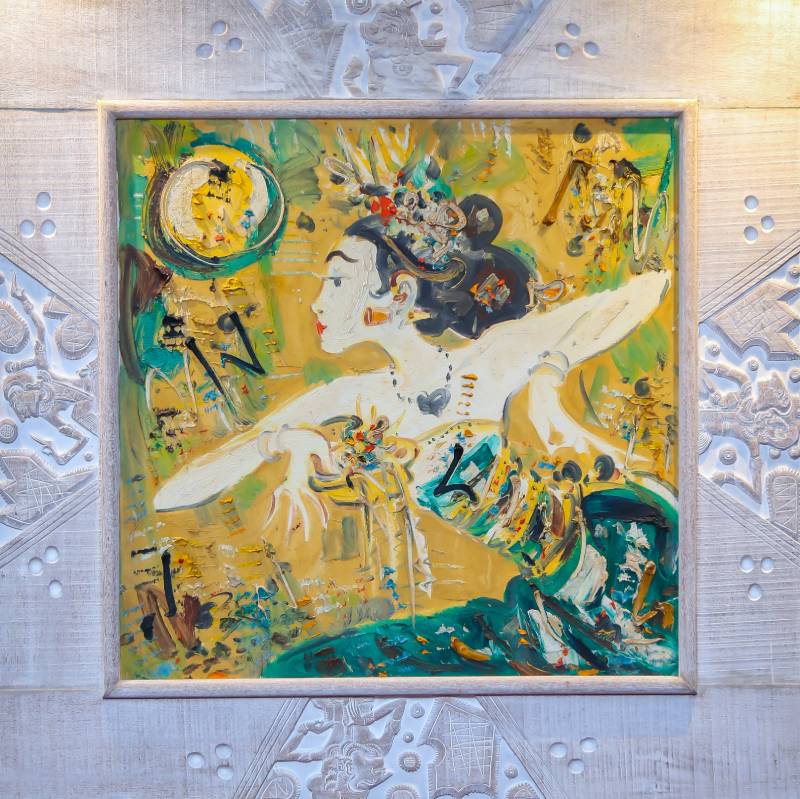 Bingkai Seni Bagimu Negeri, Semangat Berkarya di Era Pandemi adalah tema yang dipilih untuk pameran seni yang berlangsung di Perpustakaan Nasional beberapa waktu yang lalu. Di tengah pandemi, Himpunan Artis Pengusaha Seluruh Indonesia (Hapsi) bersama puluhan seniman Tanah Air berhasil menggelar pameran sebagai perayaan Kartini tahun ini.
Salah satu pelukis yang turut serta adalah Akbar Lingga Prana yang memamerkan lima karya lukis. Menampilkan potret perempuan yang tengah melakukan gerakan tari, pria yang akrab disapa Lingga ini melakukan riset mendalam sebelum membuat karya-karyanya. Maka tidak heran jika karyanya yang terletak tidak jauh dari pintu masuk ruang pameran tampak begitu memukau. Di antaranya Bulan Setengah Bayang, Sedekah Laut, dan Wulan Merindu. Di sisi lain pintu masuk, terdapat dua buah karya milik Nyoman Gunarsah.
Berjudul Dancer dan Penari Bali, keduanya sama menampilkan potret seorang wanita yang tengah menarikan tarian khas Pulau Dewata. Sama-sama dilukis dalam kanvas persegi, kedua lukisan tersebut tampak indah dibalut bingkai dengan ukiran yang melengkapi keindahan lukisannya.
Tidak jauh dari sana, terdapat lukisan karya Popo Iskandar berjudul Leopard And The Sun. Menampilkan visual sepasang leopard dengan mata hijau berlatar belakang merah. Selain itu, ada pula Story Of Love karya Pongq Hary Purnomo. Menghadirkan mawar merah berukuran besar dengan sebuah kapal di bagian tengahnya. Di salah satu sisinya, sang pelukis menyematkan batang dan daun-daun berduri, juga sepasang wayang.