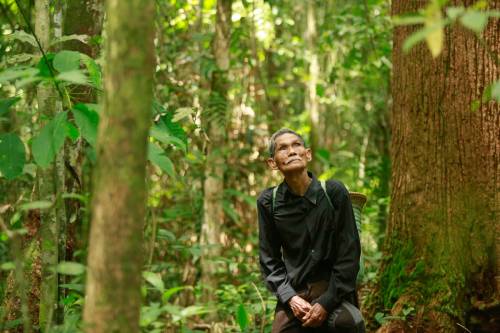 Film dokumenter berjudul 'The Flame', produksi Abimata Group, Cineria Film, RM Cine Makassar, dan Aljazeera Documentary Channel sukses ditayangkan di beberapa kota besar Indonesia. Film ini mengisahkan perjuangan Iber Djamal, penduduk asli Kalimantan, yang mempertaruhkan sepanjang hidupnya untuk mendapatkan hak waris hutan adatnya.
The Flame digarap dengan konsep dan alur cerita yang intim ketika memperlihatkan perjuangan penduduk setempat melindungi warisannya. Juga tentang bagaimana perjuangan Iber yang tidak kenal lelah dalam mencari keadilan saat sebagian tanahnya dirampas. Selain itu, film ini juga dipadukan dengan sejarah dan investigasi mengenai proses deforestasi yang berlebihan di Indonesia. Bahwa hal tersebut telah menciptakan dampak dan kerugian nyata bagi seluruh wilayah di hutan Kalimantan.
Tidak sembarangan, film ini bertujuan memaparkan isu krisis iklim dan lingkungan hidup yang telah menjadi permasalahan besar di negara ini. Selain diputar di layar lebar Tanah Air, The Flame juga pernah ditayangkan di Vision du Reel Film Festival di Swiss pada April 2021, DMZ Documentary Film Festival di Korea pada September 2021, dan Bifed, Ecology Film Festival di Turki pada Oktober 2021.
Sutradara Arfan Sabran, mengatakan, "The Flame tak hanya menceritakan tentang perjuangan nyata Pak Iber Djamal (77 tahun) dalam mempertahankan hutan adatnya, tapi juga permasalahan lingkungan hidup di Indonesia yang semakin kritis. Kami ingin memperlihatkan semangat Pak Iber dalam mempertahankan hutan adat walaupun tidak mendapatkan dukungan penuh dari pihak keluarga maupun warga sekitar.
'The Flame' mengajak penonton untuk memahami makna penting tentang hutan adat yang memiliki arti sebagai simbol kehidupan, keseimbangan, dan kebijaksanaan. Harapan kami, film dokumenter ini dapat membuka mata masyarakat akan isu-isu sosial yang terjadi, terutama pada hutan adat dan dapat menumbuhkan semangat mereka untuk mulai berinisiatif melindungi dan melestarikan hutan adat di Indonesia."