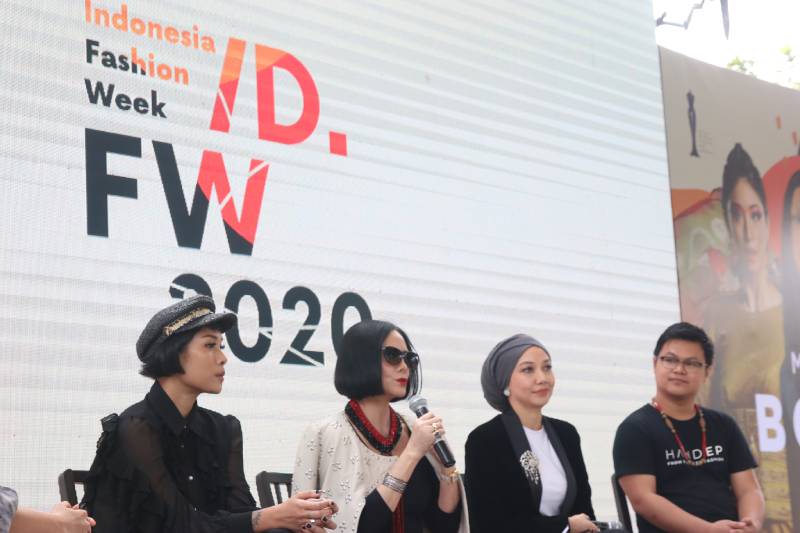 Menjelang Indonesia Fashion Week 2020, Asosiasi Perancang dan Pengusaha Mode Indonesia (APPMI) mengadakan kampanye Road to Indonesia Fashion Week. Mengangkat tema Tales of the Equator – Treasure of the Magnificent Borneo, berbagai koleksi mulai ready to wear hingga modest fashion akan ditransformasikan ke dalam karya-karya yang tetap mempertahankan budaya Nusantara.
Menurut Poppy Dharsono, Ketua umum APPMI dan Presiden IFW, jika hal ini disatukan maka karya-karya indah dan mengagumkan akan tercipta. Sehingga perlindungan budaya dan sejarah Indonesia bisa semakin meningkat dan berkembang.
Sejumlah desainer mancanegara turut berpartisipasi dalam IFW 2020, seperti Bianca Lami (Italia), Tiziano Guardini (Italia), Jaroslaba Wurll (Slovakia), Chourouk Bennani (Tunisia), Hama Hinnawi (Jordan), Marcela Alvarez & Claudia Trujillo (Colombia), Cristina Chiriac (Romania), Mac Taug (Filipina), ReZa Shah (Malaysia), Bernard Chandran (Malaysia), May Myat Waso (Myanmar), Yone Yone (Myanmar), Carlos Vigil (Peru), Dilnoza Erkinova (Uzbekistan), Gulruh Erkinova (Uzbekiztan) dan Maftuna Murodkobilova (Uzbekistan).
Baca juga: Peluncuran Kampanye Road to Indonesia Fashion Week 2020
Keikutsertaan para desainer asing ini diharapkan dapat memberi inspirasi baru bagi para desainer muda tanah air. Selain perancang busana, tamu internasional lainnya yang akan ikut berjalan sebagai model dalam upacara penutupan dari IFW 2020 adalah cucu dari Ferdinand de Lesseps, pembangun terusan Suez, yakni Alexandre de Lesseps.
APPMI Cari Desainer Muda Berbakat
Sebagai rangkaian Indonesia Fashion Week 2020, APPMI juga menggelar Indonesia Young Fashion Designer Competition (IYFDC). Kompetisi yang bertujuan untuk mencari bibit-bibit baru berbakat dalam dunia fashion design. Setiap tahunnya, IYFDC bekerja sama dengan Accademia di Alta Moda Koefia memberikan beasiswa studi satu tahun di Roma untuk pemenang IYFDC.
Tahun ini, APPMI menggandeng para desainer muda berbakat dan berpengaruh di industri fashion untuk menjadi juri dalam ajang pencarian desainer muda terbesar di Indonesia. Di antaranya adalah Ayla Dimitri (Fashion Influencer), Bimo Permadi (Fashion Stylist & Managing Editor of Her World) dan Aam Hamada (Sustainable Fashion Designer dari APPMI).
Pemenang dari ajang kompetisi IYFDC 2019, Wahyo Abraham, kini telah diangkat secara resmi menjadi ketua pertama dari divisi baru APPMI, yakni APPMI Millenial. Harapannya APPMI dapat menjaring lebih banyak lagi perancang-perancang muda yang berbakat yang dapat dikembangkan menjadi pengusaha fashion di tanah air dan juga mancanegara.