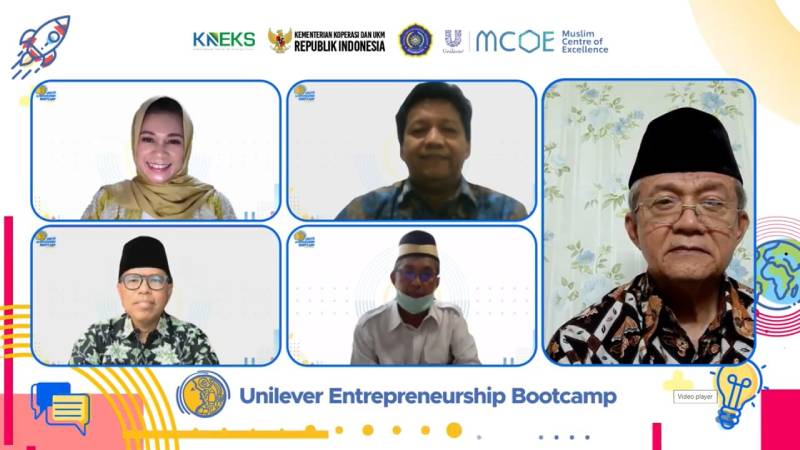 PT Unilever Indonesia, Tbk. melalui Unilever Muslim Centre of Excellence (Unilever MCOE) memberikan penghargaan kepada tiga orang peserta terbaik yang telah mengikuti rangkaian program Unilever Entrepreneurship Bootcamp (UEB) #MudaMaslahat (Makmur, Sejahtera, Adil, dan Sehat).
Nurdiana Darus, Head of Corporate Affairs and Sustainability, PT Unilever Indonesia, Tbk. menyampaikan, "Kehadiran Unilever MCOE merupakan perwujudan komitmen Unilever Indonesia untuk berbagi peran dalam mendukung Indonesia menjadi pusat ekonomi syariah. Antara lain, Unilever MCOE berkontribusi terhadap salah satu target capaian Masterplan Ekonomi Syariah Indonesia lewat kolaborasi lintas sektor dalam mendorong kemandirian ekonomi dan indeks kesejahteraan melalui edukasi seputar ekonomi dan kewirausahaan syariah."
Bekerja sama dengan beberapa pihak, program UEB #MudaMaslahat bertema 'Accelerating Your Business Growth' sukses dilangsungkan. Program UEB #MudaMaslahat membekali para youngpreneurs dengan 13 sesi workshop dan 16 sesi business and marketing coaching. Acara ini telah diikuti 60 wirausaha muda atau youngpreneurs dari sejumlah perguruan tinggi Muhammadiyah di berbagai wilayah Indonesia.
Untuk membantu menyusun dan mempertajam rencana pengembangan usaha yang digeluti, para youngpreneurs juga diberi waktu untuk berkonsultasi langsung dengan para mentor kredibel. Beberapa diantaranya seperti Gufron Syarif dari HAUS! dan Muhammad Yukka Harlanda dari Brodo.