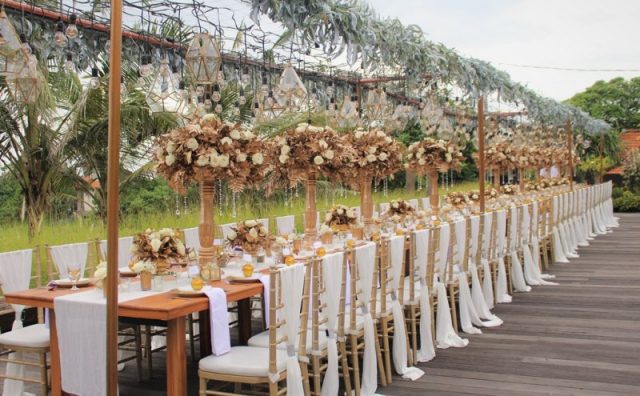 PHM Hospitality kembali menjadi salah satu vendor di pameran Wedding Celebration Festival 2019 yang akan berlangsung pada 22-24 November 2019. Pameran pernikahan yang memiliki tagline The Real Biggest Wedding Exhibition di Indonesia ini bertujuan untuk memberikan ide, inspirasi dan juga ajang pertemuan antara pelaku industri kreatif pernikahan dengan calon pengantin.
Pameran akhir tahun ini merupakan momen yang tepat bagi para calon pengantin yang sedang mempersiapkan pesta pernikahan mereka di tahun berikutnya. Berlokasi di Jakarta Convention Center (JCC), bersama dengan hotel-hotel di bawah manajemen PHM Hospitality akan berada di Booth M6B untuk memberikan inspirasi dan juga kebutuhan pesta pernikahan. Karena pernikahan adalah acara yang sangat sakral dan memerlukan tingkat pelayanan yang baik serta kenyamanan tempat pernikahan.
Dengan ini, PHM Hospitality akan mengakomodasi keperluan calon pengantin di berbagai pilihan lokasi hotel yang tersebar di 7 kota di Indonesia. Selain itu, PHM Hospitality juga memberikan penawaran spesial dan tambahan benefit selama pameran ini berlangsung, tidak ketinggalan hadiah langsung berupa voucher belanja untuk calon pengantin yang melakukan booking venue di salah satu hotel PHM Hospitality.
"Kami percaya bahwa masih banyak masyarakat yang membutuhkan informasi terkait vendor-vendor pernikahan untuk mempersiapkan pesta pernikahan mereka,"ujar Head of Marketing & Communication dari PHM Hospitality Nadia Damayanti dalam keterangan tertulisnya, Selasa (19/11/2019).
Untuk itu, jangan lewatkan penawaran menarik dan hadiah langsung bagi calon pengantin yang mengunjungi booth PHM Hospitality di area main lobby M6B. "Tiket pameran Wedding Festival Celebration 2019 ini bisa didapat dengan harga Rp25.000 yang berlaku untuk tiga hari pameran," tambahnya. (Poy)